Horizontal Drum - Type Vacuum Freeze Dryer Machine With CE Certification
Horizontal Drum - Type Vacuum Freeze Dryer Machine With CE Certification
The vacuum freeze drying machine is an advanced method for the material for the material de-watering. ATLAS technology from THE DENMARK. It has been very famous for its good results and special capturing water alternatively. It freezes the moisture material in the low temperature and makes the water inside sublimate directly in the vacuum condition. Then it collects the sublimated vapor by means of the condensing way so as to dewater and dry the material.
Being processed by the vacuum freeze drying, the physical, chemical and biological states of the material are basically unchanged. The volatile and nutritious contents in the material, which are easy to be denatured in a warm condition, will be lost a little. When the material is freezing dried, it will be formed into a porous one and its volume be basically the same to that before drying. Therefore, the processed material can be recovered quickly if being watered again, because of its large contacting area and it can be stored for a long period in a sealed vessel.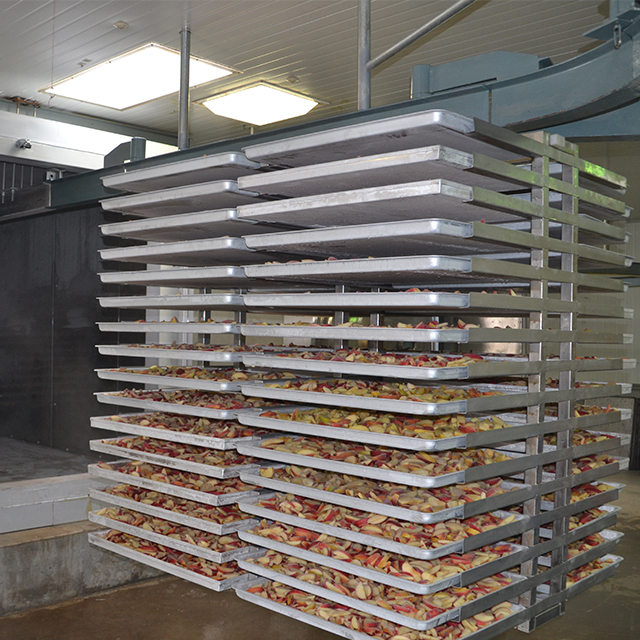 Main Features
Our Vacuum Freeze Dryer Designed and manufactured based on GMP requirement adopts a solid construction with a small occupied area and convenient installation and transportation.
Its operation can be controlled by hand, automatic program or computer. It will be more reliable if being equipped with the unit.

Working Principle
We have two kinds of cooling and heating type:
1.The material is cooled or heated by conduction mode through the shelf without a separate frozen library. Shelf have automatic constant temperature function, completely deal with material requirements for freeze-drying process. Vacuum is fully automatic and multivariable control, effectively save energy and improve production efficiency.
2.The heating mode is radiation which is heating up fast, material is heated evenly. Dry base and freezer is independent ,can provide continuous production. Material transport by air rail trolley includes pretreatment-material freezer-drying box-final treatment. The freeze drying machine is suitable for high-volume production needs.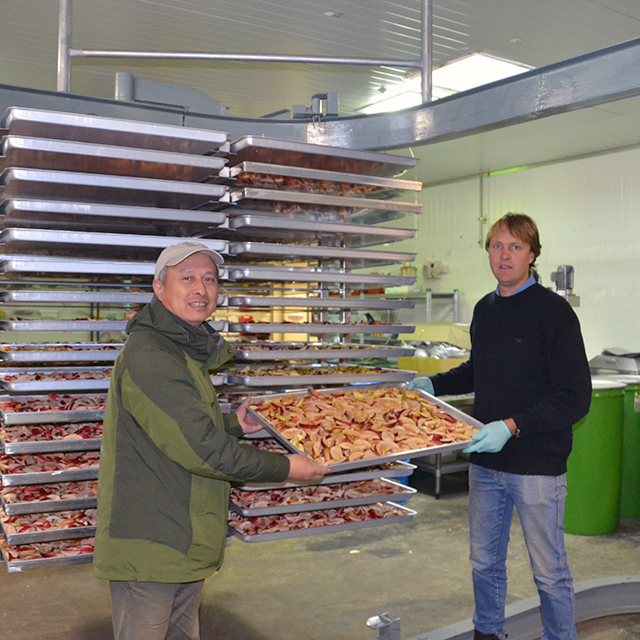 We have a well-experienced team to manufacture pharmaceutical machinery and equipment and a professional design institute. With rich experience in pharmaceutical machinery and equipment field and numbers of professional engineers, we have designed and developed many types of machinery and equipment in many varieties. Our main products are granulators, mixers, vacuum freeze or hot air dryer, pulverizers etc.
In the past years, we have made great achievements due to our good credit and service. We have established long-term business relations with many customers and some of our overseas customers have appointed us to be their purchase agency in China. Our products are exported to many countries & areas, such as Korea, India, Indonesia, Pakistan, Thailand, Vietnam, Iran, Japan, Denmark, Romania, Bulgaria, Russia, South Africa, Nigeria, the USA, Australia, Canada, Argentina and Chile.

you can get your desired goods with the best prices and good quality.

Technical Data
Freeze Drying machine

Unit

Production for Batch

LTDG-1

LTDG-50

LTDG-75

LTDG-100

Nominal Area

m2

1

50

75

100

Capacity

Area of the heat shelf

m2

1.08

59.9

89.9

110.1

Tray Area

1.02

50.2

75.8

101

Tray Size

mm

Scan the QR code to read on your phone

We could not find any corresponding parameters, please add them to the properties table

[[[[[[[[[[[[[[[[[[[[[[[[[[[[[[[[[[[[[[[[[[[[[[[[[[[[[[[[[[[[[[[[[[[[[[[[[[[[[[[[[[[[[[[[[[[[[[[[[[[[[[[[[[[[[[[[[[[[[[[[[[[[[[[[[[[[[[[[[[[[[[[[[[产品参数, 参数]]]]]]]]]]]]]]]]]]]]]]]]]]]]]]]]]]]]]]]]]]]]]]]]]]]]]]]]]]]]]]]]]]]]]]]]]]]]]]]]]]]]]]]]]]]]]]]]]]]]]]]]]]]]]]]]]]]]]]]]]]]]]]]]]]]]]]]]]]]]]]]]]]

The vacuum freeze drying machine is an advanced method for the material for the material de-watering. ATLAS technology from THE DENMARK. It has been very famous for its good results and special capturing water alternatively. It freezes the moisture material in the low temperature and makes the water inside sublimate directly in the vacuum condition. Then it collects the sublimated vapor by means of the condensing way so as to dewater and dry the material.
Being processed by the vacuum freeze drying, the physical, chemical and biological states of the material are basically unchanged. The volatile and nutritious contents in the material, which are easy to be denatured in a warm condition, will be lost a little. When the material is freezing dried, it will be formed into a porous one and its volume be basically the same to that before drying. Therefore, the processed material can be recovered quickly if being watered again, because of its large contacting area and it can be stored for a long period in a sealed vessel.































Main Features
Our Vacuum Freeze Dryer Designed and manufactured based on GMP requirement adopts a solid construction with a small occupied area and convenient installation and transportation.
Its operation can be controlled by hand, automatic program or computer. It will be more reliable if being equipped with the unit.

Working Principle
We have two kinds of cooling and heating type:
1.The material is cooled or heated by conduction mode through the shelf without a separate frozen library. Shelf have automatic constant temperature function, completely deal with material requirements for freeze-drying process. Vacuum is fully automatic and multivariable control, effectively save energy and improve production efficiency.
2.The heating mode is radiation which is heating up fast, material is heated evenly. Dry base and freezer is independent ,can provide continuous production. Material transport by air rail trolley includes pretreatment-material freezer-drying box-final treatment. The freeze drying machine is suitable for high-volume production needs.




























We have a well-experienced team to manufacture pharmaceutical machinery and equipment and a professional design institute. With rich experience in pharmaceutical machinery and equipment field and numbers of professional engineers, we have designed and developed many types of machinery and equipment in many varieties. Our main products are granulators, mixers, vacuum freeze or hot air dryer, pulverizers etc.
In the past years, we have made great achievements due to our good credit and service. We have established long-term business relations with many customers and some of our overseas customers have appointed us to be their purchase agency in China. Our products are exported to many countries & areas, such as Korea, India, Indonesia, Pakistan, Thailand, Vietnam, Iran, Japan, Denmark, Romania, Bulgaria, Russia, South Africa, Nigeria, the USA, Australia, Canada, Argentina and Chile.

you can get your desired goods with the best prices and good quality.

Technical Data

Freeze Drying machine

Unit

Production for Batch

LTDG-1

LTDG-50

LTDG-75

LTDG-100

Nominal Area

m2

1

50

75

100

Capacity

Area of the heat shelf

m2

1.08

59.9

89.9

110.1

Tray Area

1.02

50.2

75.8

101

Tray Size

mm